Mostly Washington State but that is what I am buying now.
2017 Result of a Crush Syrah The Unnamed Series – USA, Washington, Columbia Valley, Walla Walla Valley (6/20/2023)
Day 1: This is the best bottle of this vintage on pop and pour. Reynvaan wine plus 1. Roasted meats, savory spices, white pepper, green olives, minerals, raspberries, smoke and earth. This tastes like a $100 bottle of wine. As the leading expert in the world on these wines this is a legit: 96 points
Day 2: By far the best bottle of this wine to date. Day 2 is not as intense and concentrated but still offers and over delivers on the price. Roasted meats, green olives, stone, black pepper, red currants and smoke. Medium plus finish. I could drink this wine everyday and be satisfied. 95 points
Recommendation: CAN'T BELIEVE ANY OF THIS IS STILL ON THEIR WEBSITE! (96 points) $24.60
2. 2013 Reynvaan Family Vineyards Syrah The Contender In the Rocks – USA, Washington, Columbia Valley, Walla Walla Valley (5/12/2023)
Day 1: Not sure this will make it to day 2. This is amazing on a pop and pour. Roasted meats, minerals, smoked bacon, floral, earth, blue currants and graphite. Medium to long finish and super balanced wine. There are few wines in the world for $60 that taste like this.
Day 2: Not nearly as good. This wine is truly a pop and pour and drink now.
Recommendation: Consume over the next few years and don't decant. (96 points)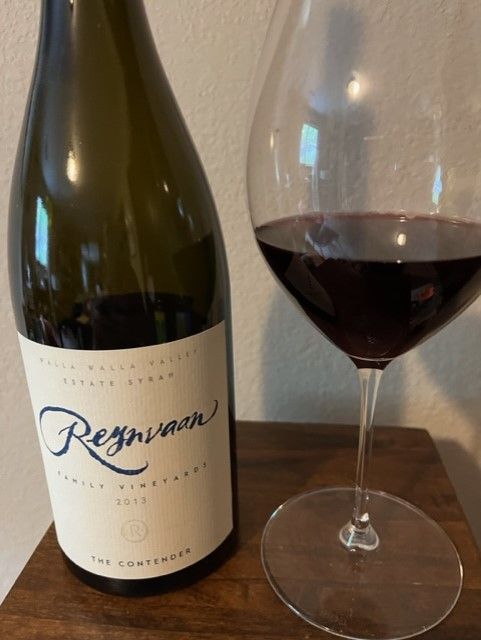 3. 2020 Result of a Crush Syrah Reserve – USA, Washington, Columbia Valley, Walla Walla Valley (4/13/2023)
Day 1: To say this is a powerful wine would be an understatement. This is not for the faint of heart but I love it. This wine should truly be an epic 3 day wine transformation. On the pop and pour it is almost overpowering featuring black olives, funk, spice, roasted meats, dark fruits and tar. Giving this a solid 10 minutes to mellow out and fantastic. I could easily see this acquiring the highest score from their entire lineup. Right now it is 94+ but I think that will go up over the next 4 or 5 glasses. 94 points
Day 2: This is not as intense but the interest level on this wine grabs my attention. There is a lot going on here. Black pepper, roasted meats, spices, earth, little barnyard, smoke and dark fruits. This is still intense for most wines but pop and pour is almost too much. Again amazing effort and would advise a SIX hour minimum decant if consuming on day 1. This will be a 4 day for sure. 94 points
Day 4: Skipped day 3 and man is this still showing well. Tar, stone, black pepper, barnyard, roasted meats, iodine, spices, dark fruits and black olives. Result of a Crush has truly crushed this one. 95+ points
Recommendation: $38.50 you will not find many better wines in the world and certainly not from the Rhone. (95 points) $38.50 SOLD OUT!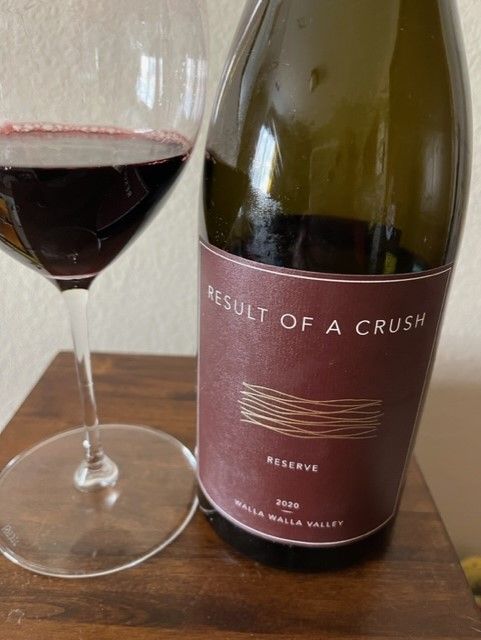 4. 2018 Sleight of Hand Syrah Psychedelic Stoney Vine Vineyard – USA, Washington, Columbia Valley, Walla Walla Valley (2/18/2023)
Diam 30 Cork & 13.9% Alcohol
Day 1: Dark purple. The soft 92 average will be going up. This is outstanding on a pop and pour with roasted meats, black olives, tar, black pepper, stone, spice, blueberries and floral notes. Super complex wine and long finish. This rivals anything from Cayuse and Reynvaan. 95 points
Day 2: This is the worst difference from a day 1 and 2 of my wine reviewing career. Drank one glass on a pop and pour on Saturday and this is a thin, overly acidic wine on day 2. Lost is the roasted meats, black olives, tar, black pepper and nice fruit and replaced by sour berries, damp earth, minerals and twigs. Watered down and too much acidity. This has never happened like this on a younger wine. Not sure what is going on as the little air that entered the bottle should not have caused this massive of a change. 75 points
Day 3: Much better than day 2 and close to the level of day 1!!! This might be the most interesting 3-day wine review ever! The wine is much more concentrated on day 3 and more intense. Black pepper, ink, tar, stone, dark fruits, black olives, iodine, floral and super balanced. Long finish. Almost reminds me of a great Aussie Shiraz from 98. Wow wine. 94 points
Recommendation: Buy it! Either just pop and pour or cellar for 5 to 8 years. Never seen a transformation like it. Locals in MN $50 at South Lyndale Liquors. (95 points)
5. 2014 Alexander Valley Vineyards Cyrus – USA, California, Sonoma County, Alexander Valley (3/10/2023)
Day 1: Amazing and for $33 what a deal. Cigar, bay leaves, cherry, dust, spice, minerals, blueberries, mint and cedar. This is super complex and one of the better Bordeaux style wines out of California. This is off the charts right now. 94 points
Day 2: Does it again on day 2 and this wine has a long life ahead. Brilliant balance with blueberries, cigar, minerals, floral notes, cedar, baking chocolate, earth and gravel. Bordeaux like and one of the better examples of a red blend from California that tastes like a much more expensive Left Banker. 95 points (95 points) $39.00 Sold Out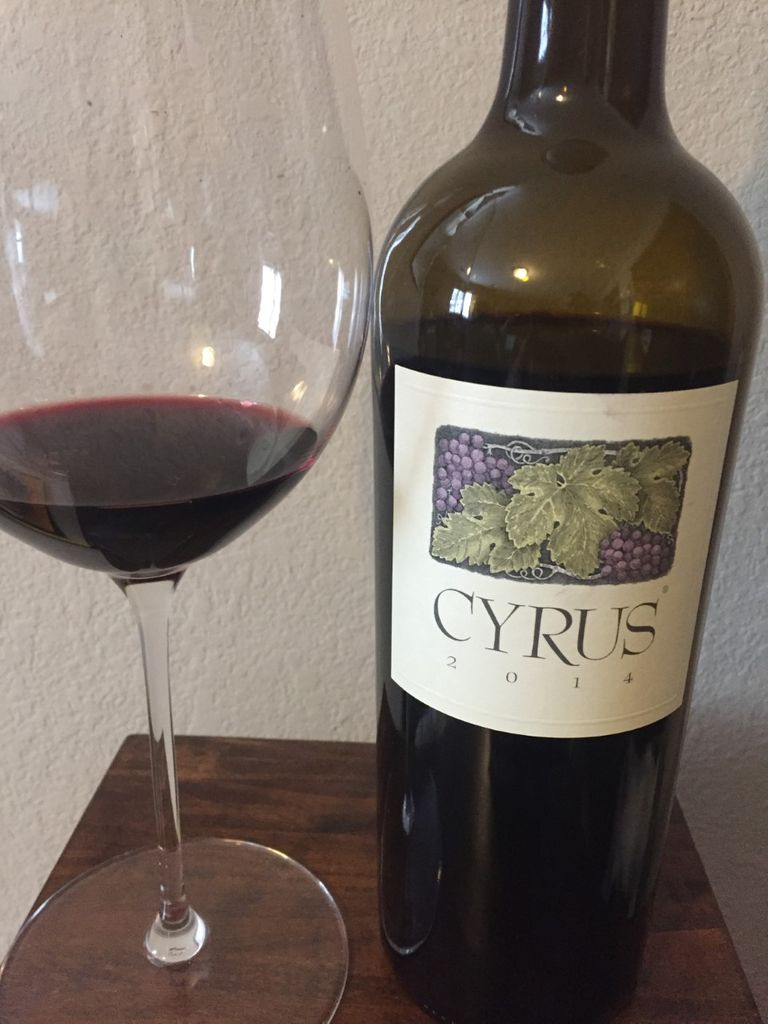 6. 2016 Andrew Will Sorella Champoux Vineyard – USA, Washington, Columbia Valley, Horse Heaven Hills (6/2/2023)
Day 1: 2nd Bottle in perfect condition. Dark purple. Concentrated wine with blueberries, blackberries, spice, dark chocolate, minerals, menthol and earth. Long finish and super complex wine. 95 points
Day 2: Still concentrated effort with another 10 years of enjoyment. Blueberries, dark cherry, baking chocolate, minerals, spice, menthol and earth. Medium to long finish. 95 points
Recommendation: It is hard not to drink these now but at least another decade of enjoyment. (95 points)
7. 2010 Reynvaan Family Vineyards Syrah The Unnamed – USA, Washington, Columbia Valley, Walla Walla Valley (4/2/2023)
Day 2: Day 1 not as good. Day 2 so much better. Black olives & pepper, spices, dark fruits, dust, minerals, graphite, floral and stone. No offense to all the wines sampled on Friday night including mine but this is much better than them and a fraction of the price. 94 points
Day 3: Wow does this wine have some life left. We are always talking about the Northern Rhone wines cellar for 20 plus but this wine I would argue is an infant. Black olives, stone, black pepper, dust, earth, exotic spices, dark fruits and graphite. Super concentrated wine and long finish. Everything is there for another 10 plus years! 95 points
Recommendation: I will argue no one makes a better Syrah on the planet for the money than Reynvaan/Result of a Crush. (95 points)
8. 2014 Tenuta San Guido Sassicaia – Italy, Tuscany, Bolgheri, Bolgheri Sassicaia (3/31/2023)
$100 Plus Tasting Year 2 (Minneapolis, MN): Easily my wine of the night. Drinking well right now but has some time to cellar as well. Rustic, Old World charm featuring leather, clay, raspberries, floral notes and minerals. Well balanced. (94 points)
9. 2014 Liquid Farm Chardonnay Bien Bien – USA, California, Central Coast, Santa Maria Valley (7/1/2023)
Day 1: Outstanding. Other than the annoying wax it is a great wine. Liquid gold with golden delicious apples, Carmel, honey, spice, pear, floral and mild oak. This is a super wine and can't believe I got this for $33 a bottle. Should have bought way more. 94 points
Day 2: Holding strong and just an amazing wine. No hurry to drink these as they will be good through 2028.
Recommendation: Great wine and amazing value so buy if you like balanced Chardonnay. (94 points)
10. 2011 Clarendon Hills Cabernet Sauvignon Sandown – Australia, South Australia, Fleurieu, Clarendon (6/8/2023)
Day 1: AS the one who made this wine and Lisa you missed the boat but fine by me as it is $29.99. WTSO just had 50 more bottles so win for me. Funk, raspberries, minerals, stone, spices and floral notes. Amazing wine and not going anywhere. Another case for me!!! 94 points
Day 2: Even more balanced on day 2. Mild funk, blueberries, raspberries, minerals, stone, spice, black licorice and menthol. Complex and medium plus finish. Again thanks to Lisa Brown for giving this 86 points and allowing WTSO to offer it for only $27.99 a bottle. Not too many better at that price. 94 points (94 points)