Number One
I have been a huge fan of the Anderson's Conn Valley Wines for years and this was a show stopper. This was the 2nd highest rating I gave out this year and at $50.00 merits my wine of the year.
2005 Anderson's Conn Valley Vineyards Cabernet Sauvignon Estate Reserve – USA, California, Napa Valley (5/12/2019)
Wine of the year candidate. Had at Mother's Day Early Dinner at Jenson's Super Club. Integrated wine with cassis, pencil lead, mocha, cherry and mild oak. Complex, multilayered long finish. Drinking window sweet spot on this wine. Drink now to 2022. (96 points)
Purchased: $50.00 Envoyer
Website: https://www.connvalleyvineyards.com/
Number Two
There was a last minute cancellation for a Wine Company Industry Event I was able to attend and this wine was mind blowing! Better than any Sauternes I have sampled in a long time. Jorge Ordonez are making some amazing Spanish Wines.
2013 Jorge Ordoñez & Co. #4 Esencia – Spain, Andalucía, Málaga (7/12/2019)
Jorge Ordonez Tasting; 7/11/2019-7/12/2019 (St. Paul, MN): A mind blowing wine. The slopes they are farming these grapes is crazy! Concentration overload. Honeysuckles, dried apricots, slate, orange marmalade and mango. Super long finish. One of the best dessert wines I have ever tasted. A real gem. (97 points)
Purchase: $200 Expensive
Number Three
The hottest area in the world of wine right now is the Oregon Side of the Walla Walla Region in the Rocks District. The number 3 wine was tasted on my trip to Walla Walla this Summer. Saviah Cellars is making amazing wines at amazing prices. This wine is a bargain at $55.00.
2016 Saviah Cellars Syrah The Stones Speak Funk Estate Vineyard Walla Walla Valley – USA, Washington, Columbia Valley, Walla Walla Valley (6/19/2019)
My wine of the trip. This is a rock star wine. White pepper, roasted meats, gravel, blueberries, tar and stones. Long, concentrated finish. Balanced. This wine will easily age a decade. 96 points (96 points)
To purchase the 2017: https://www.saviahcellars.com/wine/estate/2017-syrah-stones-speak/
Number Four
2013 Penfolds Shiraz St. Henri – Australia, South Australia (11/10/2019)
Day 1: Very fragrant nose without the annoying Eucalyptus that is found in too many Aussie Wines. Blueberries, exotic spices, tar, floral, minerals and mild underbrush. The finish is complex and picks up some nice pepper quality. Very concentrated wine and drinking well on a pop and pour. This should age for well over a decade from now. 93 plus
Day 2: Blueberries, menthol, black pepper, floral, minerals and tea leaves. Medium to long finish. Good acidity and balance. 93 points
Day 3: The best of the 3. Black pepper, tar, menthol, blueberries, crushed rock and floral notes. This is packed with flavor but also possesses acidity which is not always the case in Australian Shiraz wines. One of the best Aussie wines I have had in the last 5 years. 95 points
Recommendation: Wonderful wine with some serious aging potential. Drink now with a heavy decant to 2030. (95 points)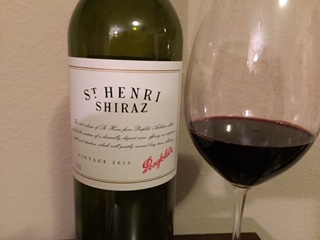 Number Five
2001 Robert Mondavi Winery Cabernet Sauvignon Reserve – USA, California, Napa Valley (11/21/2019)
Worldwide Wines that Don't Suck (Saint Genevieve, Minneapolis): Hell ya!!! My wine of the night. Nose is amazing and palate/finish consistent. Red currants, cigar, plum, coffee grounds and minerals. Medium to long finish and super complex. This wine will age another decade not worries. Top ten wine of the year. 95 plus. (95 points)
Purchased: $80.00 Envoyer
Number Six
The most interesting wine on the list by a landslide (hillside). This was quite the discussion on Wine Berserkers. Purchased at South Lyndale Liquors sale for $39.95.
2017 Pax Syrah Sonoma Hillsides – USA, California, Sonoma County, Russian River Valley (10/2/2019)
Day 1: 12.9% alcohol. One of the more interesting wines I have tasted this year. Black and green olives, tar, roasted meats, ink, stone, white pepper and violets. On the palate picks up some blueberries and boysenberries. This possesses a long, concentrated finish. Top five wine for sure this year! Reminds me of the better wines from the Rocks district. Outstanding. 95 points
Day 2: Not as intense but still many similar qualities. Black and green olives are pronounced along with stone, violets, roasted meats, white pepper and tar. Medium to long finish. Good acidity. Just a well made enjoyable wine. Not an in your face effort like so many Syrahs out there. 93 points
Day 3: Olives, tar, gravel, spice, floral, roasted meats and white pepper. Very interesting wine and holding strong on day 3. Similar to day 2 in quality. 93 points
Recommendation: For $40 this is a no brainer wine. Drinks better than wines 2 to 3 times the price. This will drink well from now to 2025. (95 points)
Purchased: $39.95 South Lyndale Liquors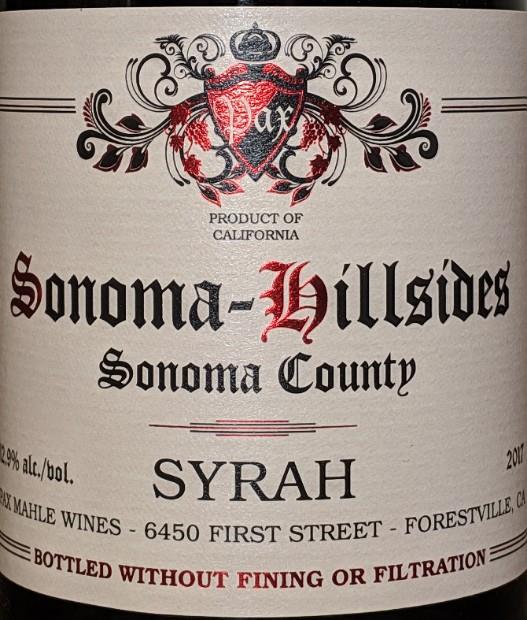 Number Seven
2010 St. Innocent Pinot Noir Temperance Hill – USA, Oregon, Willamette Valley (2/2/2019)
Oregon Pinot Noir vs. California Pinot Noir (Minneapolis): Day 1: Wow! Amazing complexity and vibrant nose. The favorite wine of the group. Cranberry, spice, rose petals and earth. Medium plus finish and good acidity. This wine has many years ahead based on where it is now. Drink now to 2024. 94 points
Day 2: Amazing. I highly recommend experiencing this wine on day 2. Wonderful nose of cranberry, forest floor, rose petals, spices and wafer. Medium plus finish and acidity balances out this amazing wine. Could be the best Pinot from Oregon for me since the epic 2007 White Rose. 95 points
Day 3: Still amazing. This wine has a long life ahead.
Recommendation: Drink now to 2024. This is one of the best Pinots I have ever tasted from Oregon!!! (95 points)
Purchased: $35.00 from Envoyer
Number Eight
2014 K Vintners Syrah Rock Garden – USA, Washington, Columbia Valley, Walla Walla Valley (2/13/2019)
Day 1: Black olives, charred meats, white pepper, tar and red currants. Super balanced wine and good acidity. Northern Rhone like. Very elegant overall and not an over extracted, ripe wine. This is a benchmark K Syrah. 93 + points
Day 2: Picks up some weight. Black olives, white pepper, truffles, tar and darker fruits. A bit more concentrated than day 1. Nice overall finish and good acidity. This is a balanced effort with all the characteristics I enjoy from the Syrah grape. Outstanding. 94 points
Day 3: Completely different experience with green olives, mint, jalapeno peppers, pepper and sour cherries. Not nearly as good as day 2 and 1. Would not be thrilled if this was day 1 experience. 88 points
Recommendation: Hard one here. Love day 1 and 2 so I say pop and pour consume young but I also could see 3 to 4 years this being really good. (94 points)
Purchased: $35.00 WineStreet Spirits To get on their email blast for weekly specials email Brad at: winestreetspirits@comcast.net
Number Nine
2014 Le Vieux Donjon Châteauneuf-du-Pape – France, Rhône, Southern Rhône, Châteauneuf-du-Pape (3/20/2019)
Day 1: Pop and pour and amazing funky character. Garrique, stones, tar, damp leaves and raspberries. Very balanced and excellent wine. Medium to long finish. This is the best of the bottles so far and will be buying more. Drinking really well young. 93 points
Day 2: Still has the amazing funk with roasted chesnuts, raspberries, menthol, stone and tar. Super concentrated wine right now with medium plus finish. Just singing and even better as the Gophers beat Louisville today. 93+
Day 3: Awesome. Roasted chestnuts, funk, spice, tar, pepper, stone and red currants. This is packed with flavor and concentrated finish. For $30 a QPR of the year candidate. 94 points
Recommendation: At $30 a bottle a case purchase! This will drink well for another decade but shocking how good this is right now! (94 points)
Purchased: $33.00 at WineStreet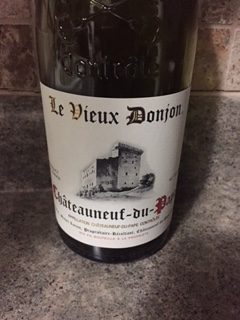 Number Ten
2014 White Rock Vineyards Cabernet Sauvignon – USA, California, Napa Valley (12/14/2019)
Sunfish Cellars Napa Valley Extravaganza (Sunfish Cellars/I Nonni Minneapolis, MN): This wine has just entered my top ten wines of the year. Beautiful nose featuring funk, dust, blueberries, raspberries and gravel. Good concentration and medium plus finish. This has all the stuff for another decade of aging. Just picked up a six pack of this. 94+ (94 points)
Purchased: $60.00 at Sunfish Cellars