As the only wine educator in the Twin Cities promoting the best deals from anywhere I told you about the 65% off sale at Davenport Cellars. For those who took advanatge of the $10.50 wines with only $30.00 shipping congrats.
For those who did not they will be doing another sale late March and I will let you know about it here first.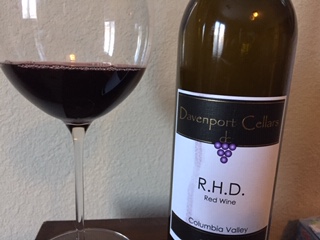 Here the wines I sampled so far!
2013 Davenport Cellars R.H.D. – USA, Washington, Columbia Valley (2/11/2020)
Day 1: Blueberries, boysenberries, smoke, mild oak, spices and dried herbs. Short to medium finish. Based on the 14 showing on day 1 I will predict day 2 will improve. 89 points
Day 2: Better and more open for business. These Davenport wines are long term agers. Perfumed nose and palate along with cherry, blueberries, spices, smoke and dried herbs. The finish is better on day 2 and much longer. 90 points
Day 3: Plenty of flavor here and this wine needs time to fully come together. Cherry, blueberries, perfume, spice and floral notes. A subtle smoke element on the finish. Medium plus. 90 points
Recommendation: I would hold these until 2024. (90 points)

2014 Davenport Cellars R.H.D. – USA, Washington, Columbia Valley (2/4/2020)
Day 1: Cigar, plum, subtle spices, dust and minerals. Elegant overall and medium finish. There is some fruit ready to emerge but might need some time to do so. Score withheld on day 1.
Day 2: More open for business. Menthol, cherry, plum, spices, minerals and fragrant floral notes. Good acidity and medium finish. This is enjoyable but lacks concentration on the finish. 88 points
Day 3: Serendipity. I left the cork off from day 2 to 3 which I never do when I do 3 Day Wine Reviews. This worked and give much promise to this wine. This is a long term ager. Featuring sour cherry, plum, spice, minerals, floral and tobacco. Very complex wine overall and much better than day 1 and 2. 91-93 points
Recommendation: HOLD! Drink this wine from 2025 to 2030. (91 points)

2015 Davenport Cellars Continuity – USA, Washington, Columbia Valley (1/23/2020)
Day 1: Solid overall with iron, dust, funk, raspberry and sour cherry. Young but flavorful. Medium finish. 90 points
Day 2: Starting to open up. Picking up some blueberries and cherry along with dust, iron and mild funk. Medium finish. 90+ points
Day 3: More intense wine on day 3 and fruit is showing in abundance. Dark cherries, blueberries and ripe plums. Spice, iron and dust complete the intense wine. Medium to long finish. This should drink well for years. 92 points
Recommendation: If you have a six pack try these every 2 years. If you have one bottle drink after 2025. (92 points)

2012 Davenport Cellars Continuity – USA, Washington, Columbia Valley (1/22/2020)
Day 1: Purchased this on the 65% off sale. Very solid wine and plenty of life left here. Mineral driven along with cherry, blueberries and floral notes. A very balanced effort and medium plus finish. Really get some nice iron notes on the finish. This should evolve over the next 8 plus years. Very good. 91 points
Day 2: Better than day 1 and more concentration featuring spices, floral, blueberries, cherry, minerals and oak. Very complex wine and long finish. A serious wine and for the deal we got on this a candidate for top wine of the year under $30.00. 92+ points (91 points)

2008 Davenport Cellars Continuity – USA, Washington, Columbia Valley (1/17/2020)
Day 1: Yes this is wine of the year candidate! Tobacco, spice, dark cherries, menthol, earth and dried twigs. Medium plus finish and picks up some nice exotic spices on the finish. Talk about a wine in its sweet spot. Did I mention this wine was $11 on a sale 3 weeks ago. 93 points
Day 2: Excellent on day 2. Tobacco, dark fruits, menthol, dried leaves, earth and exotic spices. Nice gravel elements on medium plus finish. Unbelievable wine for $10.50. 94 points
Recommendation: Even at the full $30.00 s real bargain. (94 points)

2008 Davenport Cellars Continuity – USA, Washington, Columbia Valley (12/30/2019)
Day 1: Holly S… This just took over the top wine of 2019 for 3 Day Wine Review for wines under $30.00. $10.50 on their closeout special which concluded on December 28. Just picked this up from FedEx Office today and it is outstanding. No bottle shock which is a myth to begin with. 54% Cabernet Sauvignon, 23% Merlot, 12% Cabernet Franc, 9% Malbec and 2% Petit Verdot. From the following vineyards Kiona, Seven Hills, Sheridan and Burgess.
Classic Washington State. Leather, tobacco, blueberries, cherry and minerality. Drinking unbelievable. So balanced and very Bordeaux like. This would do well in a blind tasting. I am so happy my brother Brian confirmed how great this wine was as he gave it 92 points on two separate occasions. I only bought 4 and regret not getting a case. This wine should age another 3 to 5 years. 93 + points
Day 2: This is not nearly in the same league and based on that drink on day 1. You don't need to decant this wine.
(93 points)